Best Truckee Real Estate Agency for 2019
The incredible team with Oliver Luxury Real Estate have lead us to win the esteemed Best of Truckee Award for the Real Estate market. Voted best for all of 2019, Oliver Luxury Real Estate has overcome other prominent agencies to take the top spot in the Real Estate category. The Truckee Award Program is an annual awards program honoring the achievements and accomplishments of local businesses throughout the Truckee area.
Recognition is given to companies that have shown the ability to use their best practices and implemented programs to generate competitive advantages and long-term value. The Truckee Award Program was established to recognize the best businesses in the local Truckee community. Everyone at Oliver Luxury Real Estate strives to make a positive impact through extraordinary service, neighborhood contributions, and best business practices.
Best Truckee Real Estate Agency for 2019
Oliver Luxury Real Estate Takes the Top Spot over All Truckee Real Estate Agencies for the 2019 Best of Truckee Awards!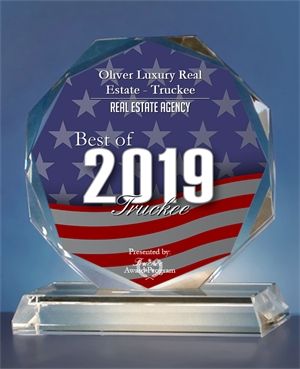 Christy Morrison, one of our top performing Truckee Real Estate agents, has guided the Truckee team through her notable achievements and outstanding performance. We are proud of our success and excited to be recognized by the local community as leaders in our industry. Congratulations to all other award winners, and a special thanks to the Truckee Award Program for recognizing our hard work and dedication in the local Truckee market.
"Our team will carry on with the progress of making a meaningful impression within the local region, and will continue to set the standard of excellence in the Truckee Real Estate market, and throughout all the areas we serve. "
Sell Your Home With Smarter Marketing.
You deserve a full-service solution to help you sell your home using Facebook ads, email marketing, and custom property pages.
See How We've Mastered it